Today's Memory Monday prompt was inspired by this post on one of my favorite blogs. The question asked on Apartment Therapy was "Who adorned your teen walls?" This was a fun topic to think about. I never was much of a teen heartthrob kind of girl. I never had pictures of Shawn Cassidy hanging in my room. LOL! However, I'm not completely innocent in this matter either.
It might surprise you to know what "hottie" I had hanging on my walls. My poster boy was Karl Malone of the Utah Jazz. He was standing next to a big black pickup truck and his shirt was off. The funniest part of the whole thing is that my Mom gave it to me! I don't have a picture of this poster, and I can't seem to find one on Google either. Mom, if you ever find a shot of this, please send it to me.
If you are wondering why I had this poster in my room, here's a shot of Karl a few years later (after he lost his hair).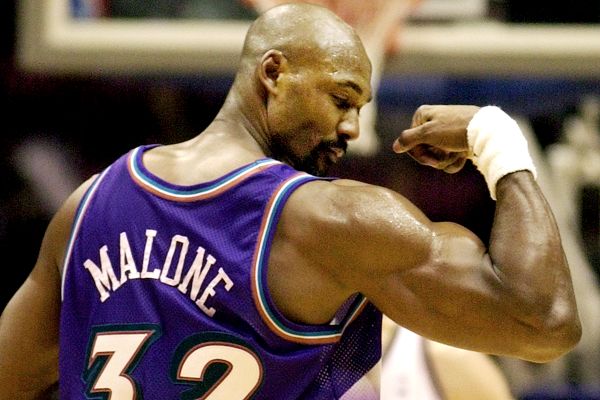 One of my friends (who is now my husband) used to tease me quite a bit about this poster. He just couldn't get over that I had that in my room. It has been a long standing joke between us. We even had a poster of Karl Malone in our first apartment (his shirt was on) after we got married.
.
If only grown women could have posters on their walls…. well, I guess that's why they invented blogs!
Sawyer from LOST
Sayid from LOST
Johnny
More specifically, Captain Jack!
.
Who was on your walls as a teenager? Who would be on your walls now? Who do your teenagers have on their walls? All fun topics on a Memory Monday!